Starting from 1st of January, 2019 Jani Linna-Aro, M.Sc. has been appointed to CEO in Orbis Oy. Mr. Markku Linna-Aro continues as the chairman of the board.
Orbis Oy was founded by Leo Linna-Aro in 1949, so this year is company's 70th anniversary and Jani Linna-Aro continues in third generation the family owned business.
For the future prospects of Orbis Oy Jani Linna-Aro comments as follows: "
The expertise, solutions and experience of Orbis are naturally combined with the needs of future smart cities. For example the 5G mobile networks, in-building networks and data centers are the infrastructure of digital services.
More information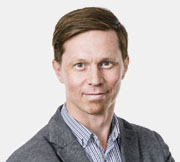 Jani Linna-Aro
CEO
+358 40 350 1866
firstname.lastname@orbis.eu