In the second phase of the LuxTurrim5G ecosystem projects, the recently developed 5G smart pole concept is moving towards productization and practical piloting. Another major goal is to create a platform utilizing a wide variety of data in a reliable and secured way and develop new digital services to meet real needs of cities. This includes also evaluating and piloting of a Neutral host operating model for high-speed city networks. Through a two-year, EUR 26 million, intensive co-development effort the group of 26 partners target the global smart city markets worth tens of billions euros.
The first phase of the LuxTurrim5G project, which ended in May, successfully developed the 5G smart pole concept, which integrates the 5G base station, weather and air quality sensors, video cameras, monitors electric vehicle charging unit and other active devices. The good results and the first pilots at the Nokia Campus in Espoo, Finland have attracted a lot of interest around the world and given the LuxTurrim5G ecosystem a boost for further expansion.
A number of new companies are joining the second phase of the development and altogether 26 partners and well over a hundred experts in various fields are working closely together to develop and evaluate new solutions for e.g. 5G radio technology, data processing, materials, sensors and urban design. New service concepts and business models are being developed for transport, logistics, energy management, urban infrastructure, health and safety, and network operations.
This extensive joint development coordinated by Spinverse consists of two closely related projects: LuxTurrim5G+ focusing on the productization of the smart pole concept and extension of the 5G smart pole pilot network in Kera neighbourhood in Espoo, while the Neutral Host Pilot project focuses on data-driven business and service development, intelligent network construction and operation models.
"Both mobile operators and cities would like to have a common data platform, which does not yet exist. We now have a great opportunity to join forces and bring together smart light poles and data platform to boost the sustainable development of urban areas," says the LuxTurrim5G ecosystem leader, Juha Salmelin from Nokia.
Both mobile operators and cities would like to have a common data platform, which does not yet exist. We now have a great opportunity to join forces and bring together smart light poles and data platform to boost the sustainable development of urban areas

LuxTurrim5G ecosystem leader Juha Salmelin, Nokia
LuxTurrim5G network forms the digital backbone of smart city
5G technology is expected to revolutionize many fields. Smart cities are eagerly waiting for 5G networks for super-fast connectivity and huge amounts of online data enabling new services they need. Building a dense 5G network based on smart light poles brings, however, both new challenges and opportunities. New operating models are needed for smart city infrastructure planning.
"Via these new information flows we enable people's ability to act in a smart and ecological way in an urban environment, also in its planning, designing and construction. We bring new kind of predictive information at hand concerning city functions, such as what is the status of infrastructure, what is the air quality indoor and outdoor, how to avoid traffic jams and what is the safest route to walk to school, says CEO, Jyrki Keinänen, AINS Group.
Together with AINS Group, companies like Sitowise, Caruna, Destia and the City of Espoo are involved in the planning and implementation of the novel city infrastructure. The pole development in turn is driven by Tehomet and Orbis. Modern Urban Planning tools developed by Sitowise including 3D city models and digital twins enable efficient data utilization already during the construction phase. Co-construction of electricity and telecommunications networks driven by Caruna brings cost efficiency, speed and functionality.
Mobilizing data – widely and reliably
The LuxTurrim5G smart pole network creates the digital backbone of the smart city. It provides a high-speed communications platform and creates an extensive sensor network that can collect a wide range of different data, for example, on environment, traffic, weather, energy usage. This is important to be able to build comprehensive situational awareness for the city. In addition, cities have already a large amount of own data available that could be used to develop a variety of new useful services. The aim of the project is to create a data platform capable of receiving, handling and enriching these large masses of data from various sources in a reliable and efficient manner for use cases. In this project, one area of research is the Neutral host operator model, where a "neutral" local operator would take care of building and operating the urban 5G network and providing a data platform for service providers. The rules of the data market are a key issue that will be addressed also by researchers of VTT, Aalto and University of Helsinki. The project aims not only to investigate different scenarios and business models, but also to pilot the Neutral host operating model in practice in the Kera neighbourhood in Espoo.
"Neutral Host models could allow cost-efficient building of 5G network services in cities and along transport routes. Building out 5G extensively will probably require new approaches to, for example, business models and infrastructure sharing between operators, as well as telecom and spectrum regulation enabling these new solutions. We see clear socio-economic benefits in co-operative models of building the future digital infrastructure, says Heidi Himmanen from the Finnish Transport and Communications Agency Traficom's 5G Momentum ecosystem.
New digital services for the smart city
Smooth mobility, transport and logistics are one of the major everyday challenges that will make the smart city breathe in the right pace and save time and costs. The GACHA Robot Bus by Sensible 4, recently awarded as the world's best start-up for self-driving vehicles, utilizes the high-speed 5G network and contributes to the expansion of the sensor platform. Vediafi and Agora Networks, in turn, are developing together with VTT new solutions for the last mile logistics to ensure efficient supply chains in a city. Urban planning and new operating models and services related to construction is a development area being taken forward by Sitowise and A-Insinöörit. New energy solutions and services are being developed by Caruna. Driven by Vaisala, weather and air quality data are widely utilized to develop specific services for traffic management, energy management and preventive health. Link Design in turn brings service design as part of the joint work. From a city perspective, a comprehensive, up-to-date on-line situational awareness on e.g. safety, environmental, traffic and energy issues is a major new opportunity provided by the smart light pole network with its high-speed 5G connections and extensive data base gathered by the wide sensor network and Teleste's video management solutions.
"We are delighted to continue the productive collaboration with Nokia and the research consortium to roll out dense observation networks and digital air quality mapping and forecasting to create healthy, resilient and efficient urban environments," says Erik Sucksdorff, Head of Strategy and Business Development for Vaisala's Weather and Environment Business Area
Smart and green Espoo – aiming for a smooth, healthy and safe everyday life
Espoo aims to be Europe's most sustainable city and carbon-neutral in the 2020s. Clean technology solutions will be developed and implemented with partners to support sustainable growth. Together with businesses, the city is at the forefront of smart urban development, climate work and the circular economy. The Kera area will undergo major changes in the 2020s.
The new Kera is the first place on the city rail line to build the smart city of the future. There is a need for sustainable urban development that can be enabled by digital platforms. Together with our partners, we are actively developing smart and clean solutions that enable sustainable growth. An intelligent city is being built in Espoo in a population and customer-oriented way. The goal is a smooth, healthy and safe everyday life.

Jukka Mäkelä, Mayor of Espoo
The Kera area will be transformed to an urban and smart district with at least 14,000 residents and 10,000 jobs. There are already large corporate headquarters in Kera and the new change is beginning with the revival of silent and crumbling industrial halls for temporary use. Kera will be built into a pearl of sustainable urban development and an international reference point where the city, together with its partners, will create new clean and intelligent solutions that make life easier for residents. The LuxTurrim5G ecosystem plays an important role in Kera's development. The modern Kera, which will be built in the coming years, will provide a significant pilot ground for new smart city solutions, which will also pave the way for larger international projects. Espoo's role as a UN model city for sustainable development contributes to this. The first pilot phase, to be completed by the end of this year, will provide a network of 15 smart light poles covering the route from Nokia's Campus to Kera railway station supporting also the self-driving robotic bus service. Next year the plans include already first international pilots.
Background information
The LuxTurrim5G ecosystem consists of two parallel projects funded by the participating companies and Business Finland:
LuxTurrim5G +
Nokia Bell Labs: project lead, 5G radio technology & networks
Spinverse: project & ecosystem coordination  
Premix: specific materials for antenna radomes 
Teleste: city safety and information solutions 
Vaisala: environmental & weather-related services 
Indagon: positioning technologies & services 
Ensto: luminaires, electric vehicle charging 
Rumble Tools: Drones, drone docking station & services 
Orbis: cabling, connections, integration 
Tehomet: smart pole design & manufacturing 
Destia: street lighting & infrastructure 
Technical Research Centre of Finland (VTT): radio technology, positioning, connectivity platform development 
Aalto University: radio technology, thermal/energy management, design
Tampere University: mechanics & sustainable materials development
Contact persons: Pekka Wainio, Nokia Bell Labs & Joni Turunen, Spinverse
Read more about LuxTurrim5G + >>
Neutral Host Pilot
Nokia:  project lead, data platform, 5G radio technology & networks
Spinverse: project & ecosystem coordination  
Sitowise: Urban planning and 5G city infrastructure
Caruna: Energy distribution network and 5G infrastructure 
Vaisala: Air quality & environmental observation related services in a city environment 
A-Insinöörit: Integrated city development and utilization of 5G in construction 
Link Design & Development: Service design development 
Vediafi: Last mile logistics services
Agora Networks: Last mile delivery services
Sensible 4: autonomous driving system 
City of Espoo: Smart city and Kera area development
Finnish Transport and Communications Agency Traficom: support for 5G trials and development of enabling regulation
Aalto University: Smart city business and value network modelling
VTT: Data operator business architecture and operation models
University of Helsinki: Legal and regulatory environment
Contact persons: Juha Salmelin, Nokia & Pekka Torvinen, Spinverse
Orbis contact person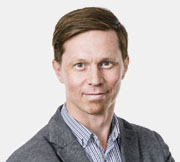 Jani Linna-Aro
CEO
+358 40 350 1866
firstname.lastname@orbis.eu