The production volume of multi-mode fiber optic cables has been increased at the Orbis production site in Estonia from the beginning of 2017, when the use of different fiber optic cables has become more common in Data Centers. Nowadays Data Center technology switches for the larger data transmission rates of 40 and 100 Gigabytes, so the capacity of fiber optic cables can make the requirements possible. Generally, the planning of Data Center is guided by energy efficiency and scalability for the future technologies. These give a direct influence for the data transmission cable planning, where the number of cables and cable ways are optimized as precisely as it is possible.
The Orbis cable assembly is tailor-made according to the customer's requirements. Cable is also terminated with connectors at the Orbis's own production. This process is a very accurate craftsmanship. The reliability of the cable assembly is based on measurements made by the testing device. This ensures that the product meets all technical requirements. Cable assemblies produced by Orbis save installation time – which is a very important option, because Data Center projects have always a strict schedule.
Insertion Loss is measured in 2 minutes by 24 connectors
Canadian measuring device MS12001 manufactured by JGR Optics Inc., is a significant 30,000EUR investment made for the Orbis' production. However, this decision was made just in time to meet the fast-growing demand. The introduction of the device was fast because Orbis' production already had the same software on similar single mode testing devices. The device can be used to test light reflection and insertion loss. The second one is usually being tested with multi-mode fiber optics. Results are stored in a database and they can be printed to go with the cable if the customer needs this option.
The new device consists of modules, which include a 24-channel switch. That means you can test 24 connectors at the same time, while the previous measurement device tested only one connector at a time. "It takes only 2 minutes to measure 24 connectors, but much longer takes the cleaning of the connectors, checking the cleanness with a microscope and putting the connectors to the testing panel" – tells Asko Kaldas, the Production Department Director. So the measurement process is not going in 24 ways faster than before. "However, in the first week the process was accelerated already in 2,5 times. Now we are developing other parts of testing, for example we are purchasing a new microscope, which will show the tester if the connector is clean by green or red light, so tester won't need to analyse the picture on a display anymore."
The new device can now test aqua OM3 and magenta OM4-cables. Kaldas says "We already know how to make this device measure also the older OM1 multi-mode cables." The employees of Orbis factory in Saue already are very glad about this new device and describe it like a "very good and fast!".
More information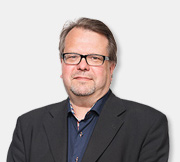 Heikki Saukko
Technology Director
+358 40 050 2217
firstname.lastname@orbis.eu