The expansion in digital services and new technologies requires a data communication infrastructure that can transfer large amounts of data wirelessly and reliably in real time. Smart pole technology is being integrated into the urban environment as discreetly as possible while protecting it from vandalism. The pole functions as a base for various devices and sensors, and within the reach it brings services to city residents and companies. The Hiedanranta pilot pole incorporates not only a mobile network base station but also controllable LED lights, CCTV camera, a USB charging point and a bench for resting.
The first product development version of a smart pole suitable for a park environment has been built in Hiedanranta. Through our collaboration we were able to create a functioning solution that meets the data transfer needs of the future.

Head of the project Anu Peussa, Orbis Oy
Challenges inspire innovation
According to Sami Huuskonen of Tehomet Oy, which was responsible for the design and manufacture of the pole, the overall appearance in the cityscape has to be taken into consideration: "I feel that it is important to ensure that the equipment is disguised and integrated as far as possible in order to avoid an uncoordinated urban environment." Because the pilot pole combines lighting with other equipment, it took time to create the design in order to ensure that all the components would fit into the finished solution as planned.
In addition to being responsible for running the pilot project, Orbis Oy is also behind the cabling and connectivity solutions for integrated data transfer and power supply. The smart pole as an installation environment and the interfaces of the various devices meant that there was a lot to be developed. The limited space inside the pole posed the greatest challenge. Cables were grouped together, technologies were combined into hybrid solutions and new, small and weather-proof connection boxes were developed. In addition, there are extra connection points in the pole which ensure that more devices can be flexibly added in the future if needed.
"In the 5G mobile network, base stations are being built in close distances so in addition to smart poles, cabling will be integrated into other street elements, such as bus stops," Anu Peussa explains.
Cities steer development
These days, data communication services are no longer solely in the hands of telecommunication operators. End users and cities play a key role in determining needs and construction sites because they decide what kind of services are needed and desired.
For Hiedanranta the vision of the City of Tampere is to be an attractive district for its residents and companies operating in the area. Hiedanranta is a place for innovation that serves as a development environment and a platform for collaboration for smart and sustainable urban development projects and experiments. Hiedanranta's aim is to be an example for a smart city district, making the area a suitable location for the smart pole pilot project. "The city wants to be a facilitator for trialing of various types of solutions. It would be good to find a common solution that is largely based on the existing urban environment. In order to speed up the construction of data communications networks, we want that the construction is carried out all at once, which helps us to maintain an aesthetically pleasing urban environment. In normal construction, we make reservations for the growing demand for data communications," says the City of Tampere's Project Manager, Mika Heikkilä about the construction of a smart city environment.
Telecommunication operator DNA Oyj's Tero Seppälä participated in the smart pole project as a technical expert. He sees potential in smart poles: "This is a new business concept for DNA. We are interested to see how this project will develop and what form potential cooperation with other cities will take." Seppälä provided important support for the construction of the pilot pole, for instance by providing information on the physical size and power requirements of the mobile network equipment and on development trends of 5G technology.
A concrete example is helpful for the planning of future needs and Anu Peussa of Orbis Oy would like the developers of smart cities to visit Tampere to learn about the smart pole: "We are particularly interested in presenting the Hiedanranta pilot project to city representatives who are responsible for digitalization and data transfer." Sami Huuskonen of Tehomet Oy adds: "The aim is to start a dialog about the benefits and challenges of integration of various technologies into urban infrastructure."
More smart poles are already in the pipeline
Orbis and Tehomet continue the cooperation on smart poles. Both companies are involved in the construction of the next pilots in the LuxTurrim5G+ project in Espoo headed by Nokia. The aim of the project is to productize the smart pole concept into a modular product family suitable for different urban environments.
More information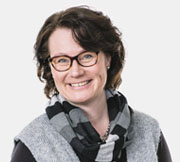 Anu Peussa
Sales Director
+358 400 902 402
firstname.lastname@orbis.eu
About Orbis Oy 
The Finnish family-owned company Orbis Oy has operated at the forefront of the technology since 1949. Today we develop solutions for the digital society and its next generation mobile networks and smart cities. We offer know-how on RF and fiber optic cabling technologies, which are needed to ensure reliable data communication in buildings, data centers, devices and industry as well as in smart cities and telecom operator networks. Our head office is located in Finland and we operate also in the Baltic states and Russia. Read more about us here.
About Tehomet Oy
http://tehomet.fi/index.php/en/
About DNA Oyj
https://corporate.dna.fi/contact-us
Photos